Phillip Torrone (Flashenabled.com), the mad Flash gadget inventor, came up with a new product this weekend.
I'll let him tell you about it himself: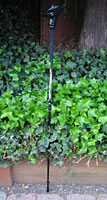 i ran out of time this weekend to finish up a new project. basically, i've embedded a gps as well as stand-alone application systems in a hiking stick (uses macromedia flash and windowsmedia). the total cost of the unit is really cheap and at some point i might see about mass producing these. when i get back i'll post screenshots from the application. imagine hiking and getting a video guide of where you are, or see pictures and messages that people left in the spot you were at, getting information about the area your hiking in addition to maps, routes and more….

pictures can be seen here:

http://www.insomedia.com/ptgps/rock.jpg

http://www.insomedia.com/ptgps/stick1.jpg

http://www.insomedia.com/ptgps/stick2.jpg

http://www.insomedia.com/ptgps/stick3.jpg

it's somewhat based on this:

http://www.flashenabled.com/mobile/gps

but better.
Looks like something that could become a very interesting product. I wonder if the target market would be old people with altzheimer, or just the regular inventor mad science type person that walks in his own toughs, and suddenly find himself lost.