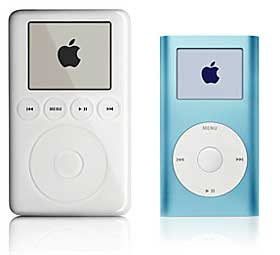 Today Apple announced its new iPod mini – a mini version of its blockbusterselling iPod.
The player comes with 4 GB hardrive, and the rechargeable battery lasts for 8 hours. The player will retail for $249 and will be available in stores from next month. (April in Europe).
As some of you might know, several companies have come forth that offers to paint the dull iPods in various colours. And it seems Apple has kept its ears to the ground and picked up on that trend, because iPod Mini will be available in multiple colours, including silver, gold, blue, pink and green.