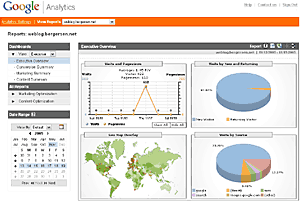 Google has just launched its new service "Google Analytics". Its an evolved version of the Urchin analytics system that you once had to pay up to $2500 a year to use.
So why has Google bought a business just to turn its thousand dollars a year service into a free service?
I think Google says it best themselves:
Google Analytics tells you everything you want to know about how your visitors found you and how they interact with your site. You'll be able to focus your marketing resources on campaigns and initiatives that deliver ROI, and improve your site to convert more visitors.
To me it seems its all about Googles AdWords program. Google AdWords has become Googles life line, supplying most if not all of its revenue and making it a company larger than Coca Cola. Making sure to strengthen it makes good sense.
And even if you aren't an AdWords customer you can use the statistics service from Google. The only limitation for none-advertisers is that their sites have to have less than 5 million page views a month. Which isn't something that should be a problem for most smaller weblogs and sites.