When I first came across these two words (Alltid and Aldri) I despaired to my boyfriend, "Why do two words that mean such different things sound so similar?" He simply gave me some advice on how to remember to spell them which I will go into later in the post.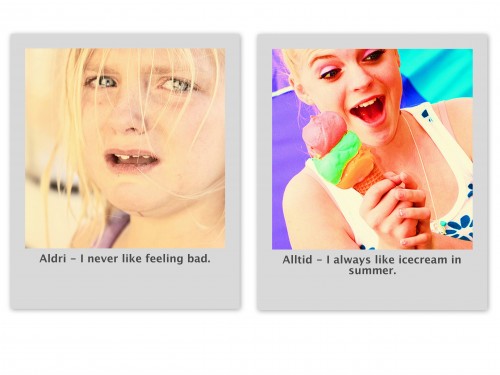 After a bit I got Alltid, after all 'All' is a lot like 'all' in English and 'tid' meaning time, just looked like it meant time to me. So alltid (all time) easily converted in my head to always.
Then I just had to remember that the one that sounded like it but was not it, ie aldri meant never. Over time that is getting easier to remember just with association of the word with the meaning.
However, I have never learnt in any of my classes what dri by itself means; and it does not appear in my "Englesk blå ordbok" which is a pretty substantial dictionary. So it is just a matter of remembering really and then usage solidifying that meaning in my head.
I figure it's just one of those words that every language has that sounds like it's a compound word but really isn't.
Which brings me to the tip my boyfriend gave me on how to remember to spell them. As you will notice alltid has two Ls and aldri has just one. The rule that Norwegian kids learn from their parents or maybe teachers goes like this:
Aldri to L i aldri, alltid to L i alltid!
Translated that means:
Never two Ls in aldri, always two Ls in alltid!
Which I find both helpful on the spelling front and with Norwegian as a second language, it helps me also remember what the words mean.
I hope this post is helpful to you.