Today (17 May) is Norway's national day, and they celebrate it in style.
In fact one guy in one of my Norwegian classes when asked to write on his national day wrote that he would not as it was not anything compared to Norway's so he wrote of his first 17th May in Norway.
People are in their regional traditional costumes, parades and great gatherings of people happen all over, pølse (sausage), brus (fizzy drink) and iskrem (ice cream) are the foods of the day.
Why is this such a big day for Norway? To know this you need to know a little of Norway's history.
History in a glimpse
Norway was under Danish rule including the Danish King for 400 years.
Norway wanted to have more say in what happened in Norway. A change of power due to world events saw Norway taken from Denmark and put in union with Sweden.
The Swedes allowed some governance by Norwegians for Norwegians. Norway wrote their constitution while under Swedish law. The constitution was signed on 17th May 1814.
This was a big day and is considered as the restart of Norway as an individual nation.
Traditions
Celebration of 17 May started small but has evolved into some pretty full on traditions.
Oslo
In Oslo there is a parade past the palace and the royal family gets dressed in traditional clothing and goes to the palace to stand on the balcony and wave to everyone in the parade.
Everyone in the parade is a lot of people. It is the usual brass bands but also every school dresses in traditional clothes and walks past the palace. Afterwards, as I understand it, they go back to their school and have a party with pølse and ice creams.
Other cities
The tradition is pretty much the same in other cities except there is no royal family or castle. There is a parade through the town and parties at the schools.
Russ (people finished with High School) are in the parades as are some football clubs etc.
Other Info
You can buy 17 May medals to wear with you clothes on the day.
A consumer program (Hjelper Deg) did a spot last week on the best ice creams for the day based on taste test by kids, value for money etc.
I have been noticing people tidying up round their houses and thought it was just a spring clean thing but my boyfriend says it was to be spic and span for 17th May.
Lots of houses in Norway (compared to New Zealand) have flag poles. Normally these fly the pennant Norwegian flag but today as a special day they fly the rectangular Norwegian flag and those houses without flagpoles have flags displayed on the front porches of their homes.
At Christmas there was a tower ´cake´with Norwegian flags attached to various layers of the cake and I was expecting to see that return now, but that is not a traditional food for 17 May I am told.
This is my first 17 May in Norway, so I am sure I have lots to learn yet. If you have more info on any of traditions or corrections to my first impressions please leave me a note.
One year soon I want to go down to the parade and experience the crush of people and the costumes and food for myself. Got to do that at least once.
In the meantime I will have to make do with tv news, weather and other presenters being dressed in national costume and the flags flying in the street.
<h3>Photos from round the net</h3>
To give you some idea of the day, here are some photos from round the net, clicking ont he photo will take you to the place I grabbed the photo from.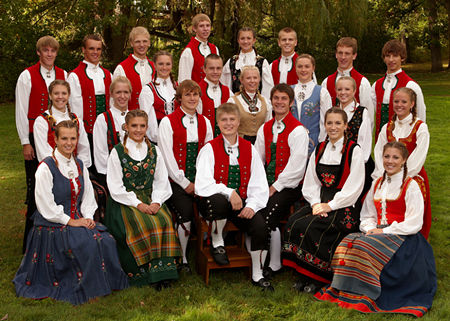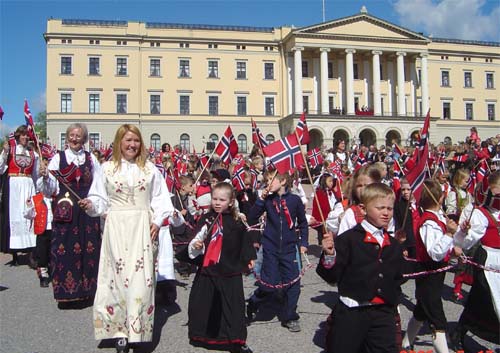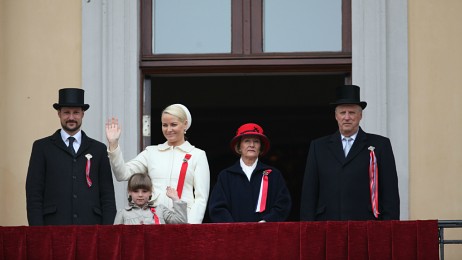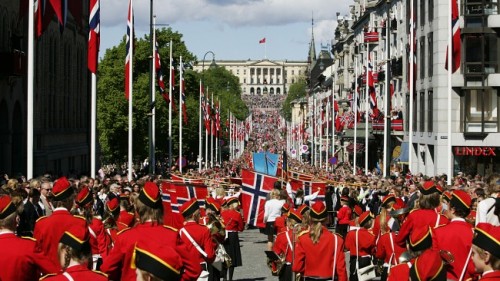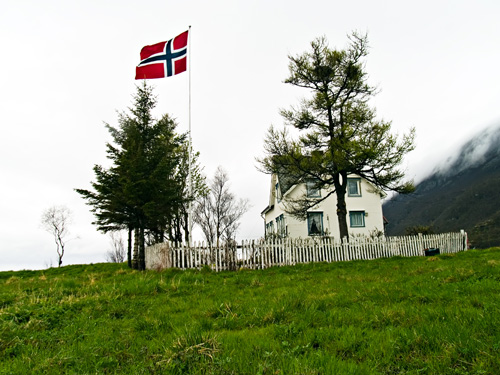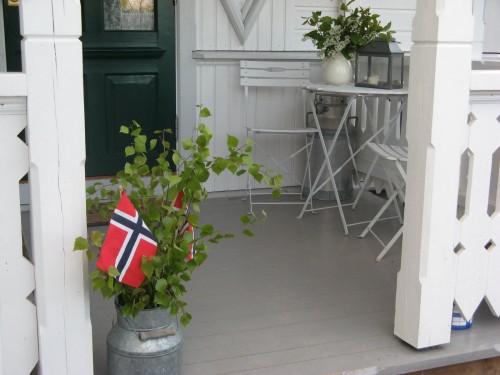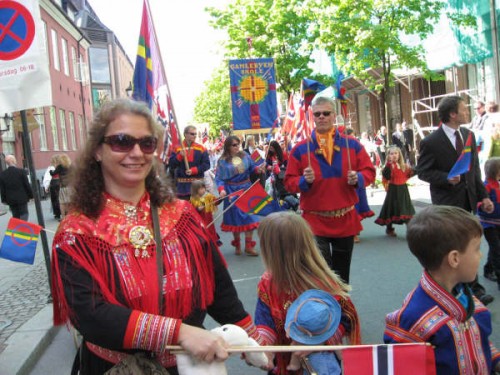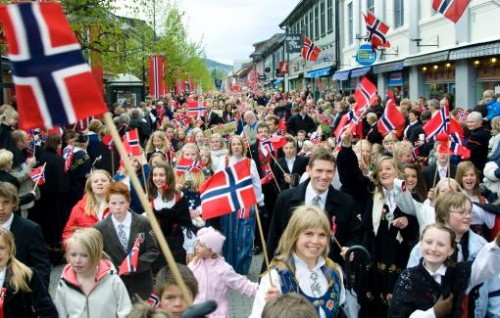 <h3>Other</h3>
In my travels round the net I found this cute game where you can dress a woman in bunad (traditional dress). Your meant to match items so her clothes are all from one region, which I did not manage too well though most I got first time through was three sets of two items from same places. Obviously I have a bit to learn about bunad.