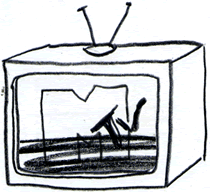 Its soon here, the TV Turnoff Week 2003. Between 21st and 27th of April Adbusters wants us to turn off the TV and do other better things.
For the campaign the Adbusters movement want to buy commercials on MTV. But MTV is looking nervous. If you like to remind MTV that the medium should be open to all expressions, also those trying to make people watch less TV, then Adbusters could use your help. Head on over to their site and you will find information on how to contact MTV to show your support.
The site also features the "uncommercial" they want MTV to show, as well as a way of donating to Adbusters to pay for the uncommercial.