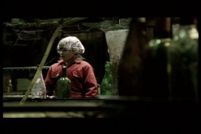 Sacrificing some night sleep to watch the "Bush in 30 seconds" awards show direct from Hammerstein Ballroom in NYC via streaming video. Isn't the Internet great?
Check out the finalists and the information about them
So far, we have these winners:
Animation Ad
"What I Been Up To…" by Ty Pierce and Mark Wolfe.
Youth Market Ad
"Bring It On" by Jared Ewy, Angel Sexton and Drew Adams.
(My personal favourite so far, unfortunately not a contender in the main category).
Funniest ad
"If Parents Acted Like Bush" by Christopher Fink, Valerie Schwanneman, Rebecca Schwanneman and Debra Ladner Fink
Now of course, the connection to the broadcast is down – so who knows if I will get to see the winner of the main category…
Later… Finally back with the web broadcast. Michael Moore talking about how the web has become a powerful weapon for the people, taking away a lot of power from the tinted media world. Great to see so many thousands of contributions to the contest.
And now.. the main category winner is…….
"Child's play", by Charlie Fisher of Denver, CO