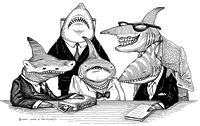 It seems like telling the truth and speaking your mind will get you in trouble wherever you are. At the very least it will get you some interesting e-mails threatening you with lawyers.
That was exactly what happened again, today. I received another e-mail threatening me with lawyers. Maybe I should start a new category of the blog dedicated to being threatened with lawyers? What would a good name for such a category be, anyone?
Well, lets cut to the case. This time there is no direct referral to juridical steps or lawyers, they are simply saying they will take any steps necessary to have me remove the page concerning their company. And I choose to believe that they are talking lawyers and not baseball bats when they say that.
Not long ago it was Nikken who wanted me to remove some pages, this time around its the Norwegian search optimisation company Mosaikk Gruppen. In this case its for calling them spammers in my Norwegian blog, after having received 10 e-mails and been in contact with them a number of times to be remove from their spam list. I even got a written apology and promises that we would never hear from them again from their general manager in November 2003, so I really felt like venting when I received yet another spam from them in April 2004.
Some explanations and an English translation of some of the juicier parts of the threatening weblog comment in the extended entry.

Yeah, I know – spam is a huge problem. Personally I get several hundred every day. So why even bother commenting about this company?
Well, in Norway most companies understand that the way to get business is not by ways of unsolicited e-mails. And in the cases where they don't understand it, its actually possible to get in contact with most of them. In this particular case I even know the company and the guy that handles their hosting. But getting in contact with the general manager, and talking directly with their hosting company wasn't enough to have them stop spamming, so I finally had to rant about them in my Norwegian blog.
Here is an excerpt from their threatening weblog comment, translated from Norwegian to English. The original can be found here:
Just a brief intro: The comment is from the sales director of Mosaikk Gruppen (he is also the CEO), and he starts the comment with an apology for their unsolicited e-mailing and promises they will change their systems so it won't happen again.
He also acknowledges that I have the right to free speech before he goes on to threaten me to remove the blog entry in question.
What I can not accept, and where I will react strongly if nothing is done, is your characteristics of Mosaikk Gruppen as a supplier of services associated with search engine optimisation. You claim that you have deliberately placed your criticism of Mosaikk Gruppen in the search engines, where it now is at number 4 in Google if you search for Mosaikk Gruppen. When you comment about our business based on mailings, and where you in very specific terms recommend potential clients to keep away from Mosaikk Gruppen you find yourself in very unsafe terrain. If nothing is done, and you remove all your characteristics of our services, employees and other products etc. WILL we take the necessary steps to make you remove this page. We take this matter very seriously, and I expect a written reply ASAP.
I might find it in me to comment on every aspect of the comment left from Mosaikk Gruppen and Knut H