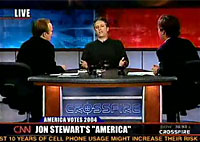 Author and fake news anchor Jon Stewart was guest on CNNs Crossfire last friday. Rather than plugging his show and book Stewart took Crossfires Paul Begala and Tucker Carlson to school and said Crossfire was hurting America.
The show turned into a discussion about Crossfires and medias failure to make politicians accountable and to ask the tough and real questions instead of just following the spin.
I thought it was a very interesting edition of Crossfire, and I hope (although, I wouldn't place much money on it) that Tucker, Paul & co at Crossfire hears what Jon said and tries to start asking the real tough questions and starts having a real debate show – rather than just providing entertainment and spin.
The Crossfire show is available as Torrent download
CNN has a transcript of the show
And there is some interesting comments about it here: