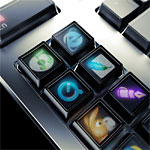 Its on my wanted list: Optimus keyboard
Every key of the Optimus keyboard is a stand-alone display showing exactly what it is controlling at this very moment.
Talk about user friendly (not to mention flashy) keyboard. It is actually customizable to the application its used for.
Unfortunately its just a design study right now – but the idea is so good and the technology should be there to start producing this.
The only question in how soon it will come to market and how much it will cost. Me? I would gladly put down a couple of hundred dollars to own one.
More info at: T3
[Via Email: Einarsen.net]