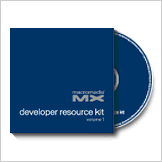 Macromedia has released a very interesting kit today, the Macromedia MX Developer Resource Kit (DRK)
The DRK is a CD containing articles, contents,
resources and components for Flash, Dreamweaver and ColdFusion Developers. And it sells for $99 U.S. dollars.
It contains the following Flash Related content:
Datagrid Component
Media Player Components
Flash UI Component Set 3
– Loading Box
– Advanced Messages Box
– Prompt Box
– Tool Tip
– Tool Tip Light
Flash Email Services Library
Flash ActionScript library that uses Flash Remoting to easily send and retrieve email from Flash. Includes a sample email application, ColdFusion Components as well as complete API documentation.
Flash Stock Services Library
Flash ActionScript library that uses
Flash Remoting to easily retrieve historical stock information from Flash. Includes sample stock charting application, ColdFusion Component,as well as complete API documentation.
Component Skinning Article
Article that describes how to skin components
In addition to the original content above, the following content will also be included on the cd:
– Complete Archive of the Designer and Developer Center
– Features Components from the Macromedia Exchange.
– Flash Communication Server Components
– Flash Remoting Components
There are also some application demos included on the CD, as well as content specific to Dreamweaver MX.
Macromedia says that one of the main things they are trying to do with the DRK is create a market for this type of content, especially components.
It should open up for higher quality Flash components, and a more commercial marketplace for the Flash components – and in that way provide a new revenue stream for Flash ActionScript coders.
If you wonder why Macromedia decided to charge for the CD, instead of releasing it for free – there are several reason why they decided to charge for it.
1. They want there to be a market for this kind of content, providing a potential revenue source for Flash developers. If they would have released the components for free, they would probably have taken away that ability for Flash developers.
2. They have invested a lot in the components. The datagrid component alone is reported to have been in development for 3 months.
Personally I think its good that Macromedia has decided to charge. $99 shouldn't be a huge amount for any serious Flash developer, and considering the time it will save most of us coding our own components it will be worth its money many times around on the very first project it is used.
The only thing I would have liked to see happen, is that Macromedia make the DRK available for sale through the community sites, allowing the community to make some money selling the CD.