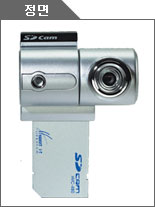 This is a neat gadget – the SDCam is a camera for Pocket PCs with SD I/O ports. The camera is korean, and the pages are all in Korean, so if someone has a translation of the information posted on the page, I would be very happy to get it :-)
The basic info about the camera is:
It has a CMOS image capture chip (which should make it cheap to produce), and it can take pictures in 800×600, 640×480 and many other lower res modes. It has 2x and 4x digital zoom, video capture with audio, timer and many other neat features. Its on my christmas list already :-) hehe. Available for PocketPC 2000/2002
[Via Pocket PC Thoughts]
[UPDATE]
Thanks to Ronald, I found this very interesting SD Camera at Expansys, with support both for Palm and Pocket PC:
Spectec SD Camera for PPC and Palm. Looks like a must have — putting it on the top of my birthday/santa list ;-) — Only problem is that its not shipping. I found a posting on one of the Palm sites from August 2002 stating that it would soon ship.
Could someone please let me know how fast/slow soon is?