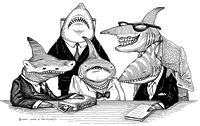 It seems like telling the truth and speaking your mind will get you in trouble wherever you are. At the very least it will get you some interesting e-mails threatening you with lawyers.
That was exactly what happened again, today. I received another e-mail threatening me with lawyers. Maybe I should start a new category of the blog dedicated to being threatened with lawyers? What would a good name for such a category be, anyone?
Well, lets cut to the case. This time there is no direct referral to juridical steps or lawyers, they are simply saying they will take any steps necessary to have me remove the page concerning their company. And I choose to believe that they are talking lawyers and not baseball bats when they say that.
Not long ago it was Nikken who wanted me to remove some pages, this time around its the Norwegian search optimisation company Mosaikk Gruppen. In this case its for calling them spammers in my Norwegian blog, after having received 10 e-mails and been in contact with them a number of times to be remove from their spam list. I even got a written apology and promises that we would never hear from them again from their general manager in November 2003, so I really felt like venting when I received yet another spam from them in April 2004.
Some explanations and an English translation of some of the juicier parts of the threatening weblog comment in the extended entry.